8//25/02 - are you ready to eat a chicken?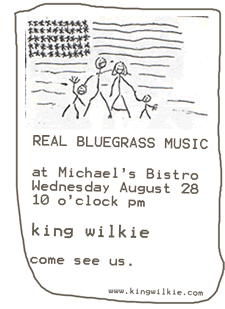 8/16/02- oh....you're a philosopher


Good News! We got a new email administrative system which should keep our mailing list in order from now on. So to all of you who signed up but haven't heard from us in a while, expect something soon.



7/22/02



We had such a great time at Grey Fox! Harris and Abe made everything sound twice as good and we can't thank them enough. Grey Fox is truly the cadillac of bluegrass festivals---we haven't been to a better one period, north, south, or west. It was hot, hot during both of our sets but the people in the audience were great and they put up with the terrible heat. We were absolutely soaked with sweat up on stage.

A vicious thunderstorm nearly derailed the show during Del McCoury's set on Friday. The rain came pouring down, forcing rapid deployment of the tarp system always on hand at these outdoor events, to save the mixing consoles and other gear from certain doom. Staff and performers were huddled inside the backstage tent and everyone seemed both fascinated and concerned. Fortunately, the storm didn't last very long asd the show got back on track. The weather was well-behaved for the rest of the weekend and the festival turned out to be a smashing success. Nickel Creek and Ricky Skaggs put on powerful performaces that we will remember for a long time I'm sure. Thanks to Mary Doub for making it all happen! We were sad to leave but hopefully we'll be back up next year.



7/21/02 - aqua fish out of aqua


Back in the greatest city on earth!

We are fortunate to have Abe Spear playing banjo with us at Grey Fox. Only 20 years old and hailing from Lexington, North Carolina, Abe is a great banjo player with his own style. We stopped in NYC for some rehersals with violinist/mandolinist Harris Wulfson who will also play with us at Grey Fox.
Since Abe had never been to the big city before we took the North Carolina boy on an grand tour. Because of all the excitement the film team from 42nd Question Productions was on hand in Manhattan, but curiously......not a camera was in sight.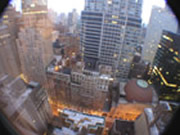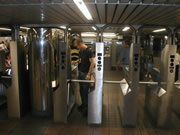 7/05/02 - bye bye Holly Creek


Wishing everyone a fine 4th of July and hope that nobody got banged up by any fireworks. We're in the midst of packing up and leaving the old farm. Its a really stressful time. The drought has killed off most everything around here and the place looks depressingly dead. Most of our belongings are going into storage since not everyone has a new place to live yet and we have to get out now. We'll be living up in Baltimore for a few days at the Chateau Hallett. Then we'll be up in New York. Hope to see you all at Grey Fox July 18, 19, & 20!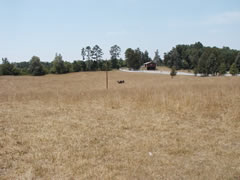 "The fields have turned brown...."
<<<< NEWS ARCHIVES >>>>