6/27/03 - KING WILKIE SIGNS WITH REBEL RECORDS!!!!

It is with great pleasure that I can announce King Wilkie signed with Rebel Records on Thursday. We are proud to join the good people of Rebel and their great history. I am also happy to tell you that Bob Carlin will be in the producer's chair for this record, where he belongs. It took some negotiating with Bob, the studio, and the label, but we made it happen. We are anticipating an early spring 2004 release for the record. Following the release we will be out on tour, hitting every major city in the country, and the world.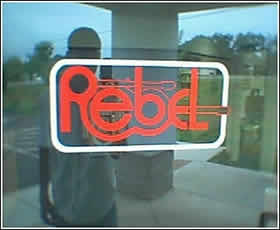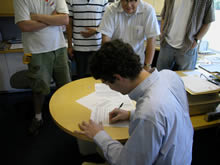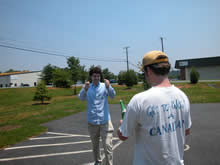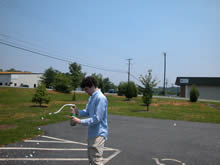 6/21/03 - no sleep till conan

Round-the-clock action this weekend. Friday night was our second show of the summer at Miller's which went remarkably well. Got home and got into bed around 4 am and woke up to do another show out in the mountains.....a wedding at 11:00 in the morning. That was 3 more hours of playing and drinking. From there we went on to yet another private party further up into the mountains. 3 shows in 21 hours. Man, I'm tired.



6/19/03 - Valentine's day masacre

Hey Chicago people, King wilkie at the Hideout: Thursday 7/3/03 9pm.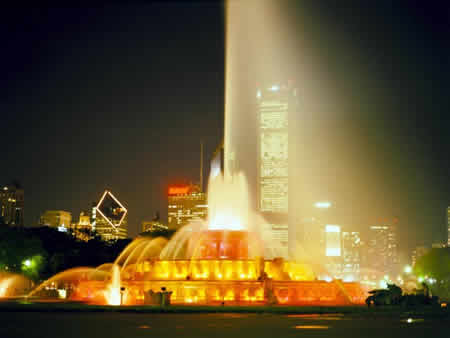 6/11/03 - happy father's day

This past weekend we were back in Scottown, Ohio for the second annual Appalachian Uprising Festival. Last year we predicted great things for this festival and so were pleased to see it had grown to almost double in size. A great time was had despite the torential rain and flooded camping areas. When we left that evening the nastiest storm I've ever seen was developing, gravel was blowing off the pavement into the air. I don't know how they got that bus out of there. The next day our van got stuck in the muddy backstage field so Tony Trishka and his band helped us push out.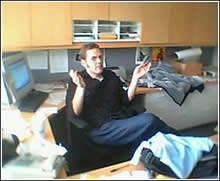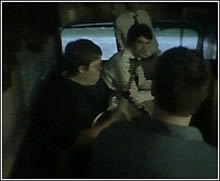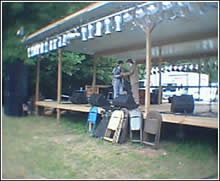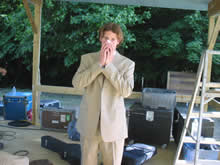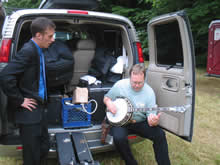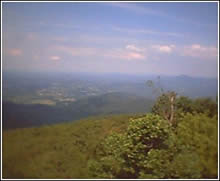 6/5/03 - nurse please

A cold virus has 4 members of King Wilkie down for the count. All the sharing hotel rooms and travelling in the van means when somebody gets sick we're all bound to catch it. With the exception, of course, of Colin....Mr. Vitality. Living proof that vitamins really do work! Dispite the sickness, tommorrow and Saturday we're off to Ohio for the Appalachian Festival. Sunday we're at the old stone church festival in Richmond. Today we're taking things easy so that by tomorrow hopefully we'll feel atleast partially restored.





6/1/03 - two-tone shoes

Thanks to all who came to hear us on our mini tour of Tennessee and the Carolinas. The show at Barley's in Greenville South Carolina was a memorable one. Maybe it was the food, or maybe it just took us a couple days to get the ball rolling, but for whatever reason everything kinda fell into place musically for us on that night.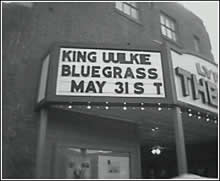 <<<< NEWS ARCHIVES >>>>