5/28/04 - a waist is a horrible thing to waste

New tour dates have been added and more will be posted as they come. People in Chicago and New York City we're coming your way very soon. Meanwhile the band continues its residency in Nashville.







---
5/20/04 - 40 west

Travel to Nashville today.....good to be back. Wow, we came across some lifesize (literally 6-foot tall) posters promoting our show at the Station Inn tomorrow night. The show is being billed as a Nashville CD release party and so to enhance the special-event atmosphere we're giving away free prizes at the door. The first 50 people to show up will receive a free copy of a limited edition 7" vinyl which is hot off the press. Yesterday everybody gathered around the turntable to give the record a debut listen. All were in agreement, it sounds even better than the CD.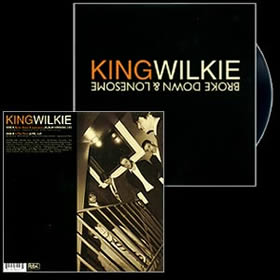 ---
5/17/04 - Alabama Jubliee

back from Alabama...This month the band appeared on the cover of Country Standard Time (first cover feature!) Lots of press and interviews popping up recently, and in the darndest places! Next month articles should run in No Depression, Bluegrass Unlimited, Billboard, and Bluegrass Now. The band says that interviews are getting easier, more candid and more comfortable every time.





---
5/7/04 - top of the morning

A very long overnight flight home today. now we're totally discombobulated, but we finally hit our respective homes and crashed HARD. Below are pictures from Sweetwater and San Francisco shows....zzzz....




---
5/6/04 - Mill Valley, CA

Sweetwater, a legendary music hall was packed to the rafters with a sold out crowd. This was the last show of the California tour. On Wednesday morning Nick had a lesson in Tai Chi and Ted & Johnny did some surgery on their guitars. We spent Wednesday afternoon relaxing and exploring Muir Woods where the Star Wars Ewok Village set was created.




---
5/1/04 - HAPPY BIRTHDAY REID!!

Mostly a travel day with a little sightseeing squezed in. The concert in Mountain View, CA was exceptionally great which might partly be attributed to the happy birthday atmosphere... had to be one of the best shows of the tour thus far.








---
<<<< NEWS ARCHIVES >>>>