6/20/04 - Bean Blossom, Indiana

Happy father's day everybody. This weekend was the annual Bill Monroe festival at Bean Blossom. We all had a fine time and James Monroe gave everybody in the band Tshirts with King Wilkie (the horse) printed on them.


---
6/17/04 - the light at the end of the tunnel is a train

Following a wonderful show with topnotch hospitality at Nashville River Stage the band headed immediately out on an overnight drive to Wind Gap, PA. After a couple of quick sets in Wind Gap we started the 15 hour overnight drive back to Tennessee, and ran into a massive thunderstorm. As we crept down the highway loaded with caffeine, the sun came up, the heat wave finally broke and we found some shade to get in a quick nap before going on stage. Not enough sleep this week, but many fond memories.





---
6/15/04

Been doing lots of moving around Nashville during CMA week. Yesterday the band did a radio spot for WSM at the Ryman (twice on that stage in 2 days, what a pleasure!) and an instore appearance at Ernest Tubb's.





---
6/12/04 - Grand Ole Fog Machine

Concert at the Ryman was excellent. That stage has the most pristine sound you could ever imagine, and Marty sure can throw a party. This was the first show for Ted and his new 1957 Martin D-18 guitar, which he bought here in Nashville the same day.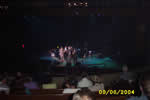 ---
6/09/04 - Music City, USA

King Wilkie will be making their debut at the famous Ryman Auditorium TONIGHT!


---
6/05/04 - Indian Hot

Many many miles covered this weekend. To lighten the load and help get some sleep during the overnight haul we rented an RV and a crazy driver named Billy. The show at Graves Mountain Festival was wetter than one would like but the crowd braved the rain and the sound onstage was pristine. Tonight everybody is home and tomorrow we hit the road for another week. For one night, we get to sit in our own chairs, sleep in our own beds, and prepare food for ourselves like big boys...





---
5/28/04 - Store Open

The King Wilkie official online store is now live. Be sure to check out the complete line of King Wilkie goods: CDs, brand new t-shirts, a vinyl 7" record, posters and other exclusive online items.




---
<<<< NEWS ARCHIVES >>>>